Our DELEhelp Team, our Town, our Value Proposition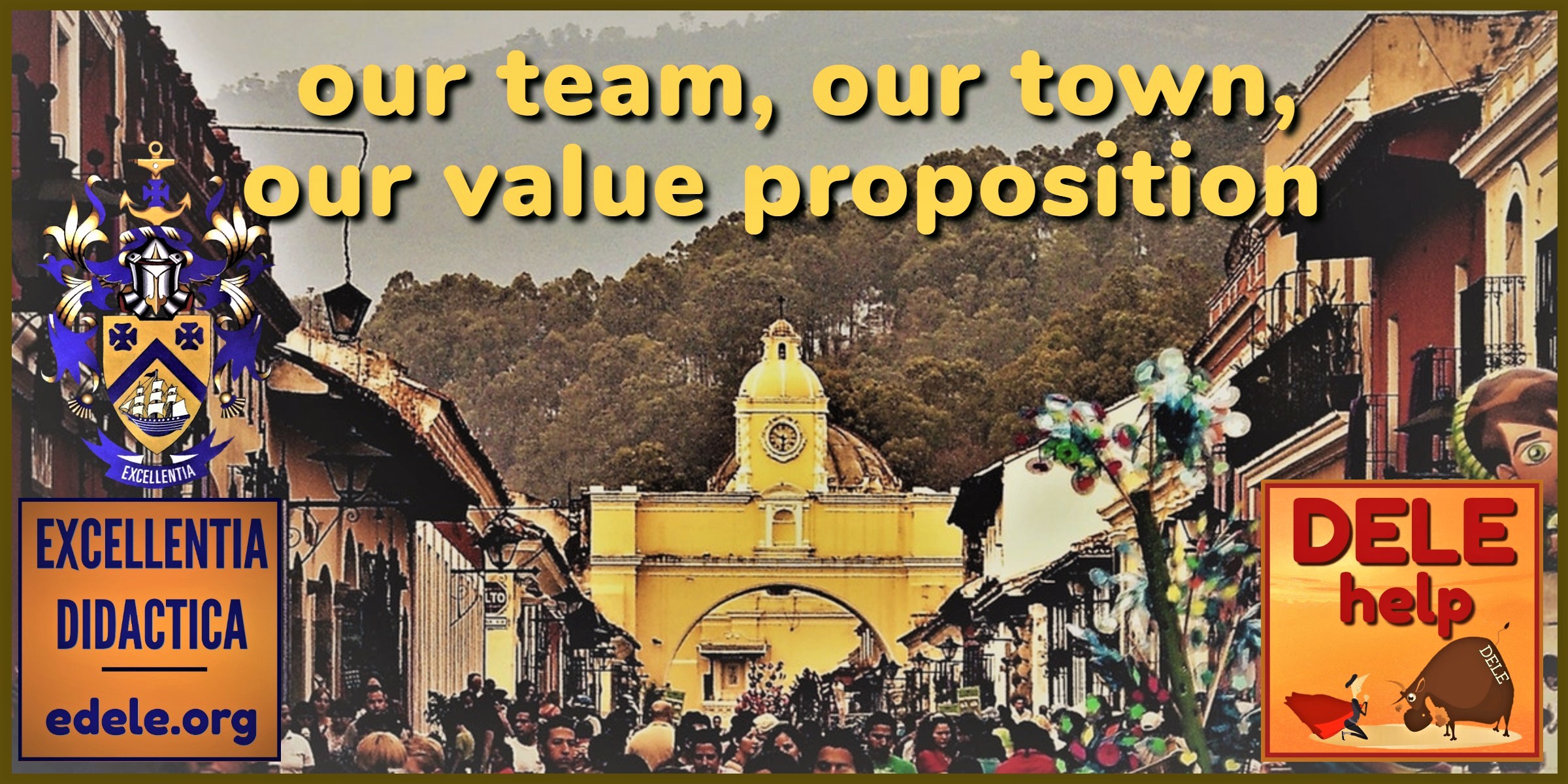 THE DELEhelp TEAM and the value we can add to your DELE / SIELE / OPI exam preparation
Have you ever wished to have a native Spanish-speaking tutor as well as a native English-speaking one, when you started learning Spanish? I know that I did! A Spanish one for pronunciation and for practicing speaking idiomatically. An English one for explaining tough concepts, and for understanding questions one can't yet formulate in understandable Spanish.
Have you ever wished for a tutor who had actually sat the DELE exam him/herself? Especially when you're trying to figure out how, and for what exactly, to prepare – beyond being pumped full of grammar? (Again, I did every day, because my early tutors were stuck on grammar and mostly incapable of explaining the examen DELE / SIELE curriculum, their formats, objectives and the scoring criteria to me).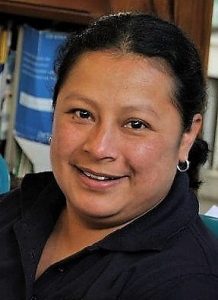 Now it goes without saying that one needs a native Spanish-speaking coach. We are fortunate that our head tutor and her team are experienced, knowledgeable and dedicated. Mónica has been teaching Spanish as foreign language since 1997, after studying at the Rafael Landivar university in Guatemala. She's a native of the beautiful old colonial city of La Antigua Guatemala. Mónica speaks in the well articulated, measured and very correct manner that's typical of the inhabitants of this former capital of all of Spanish Central America (which is one of the reasons why La Antigua is the pre-eminent place for studying Spanish as foreign language – our students don't have problems with tutors who speak too fast or with heavy accents).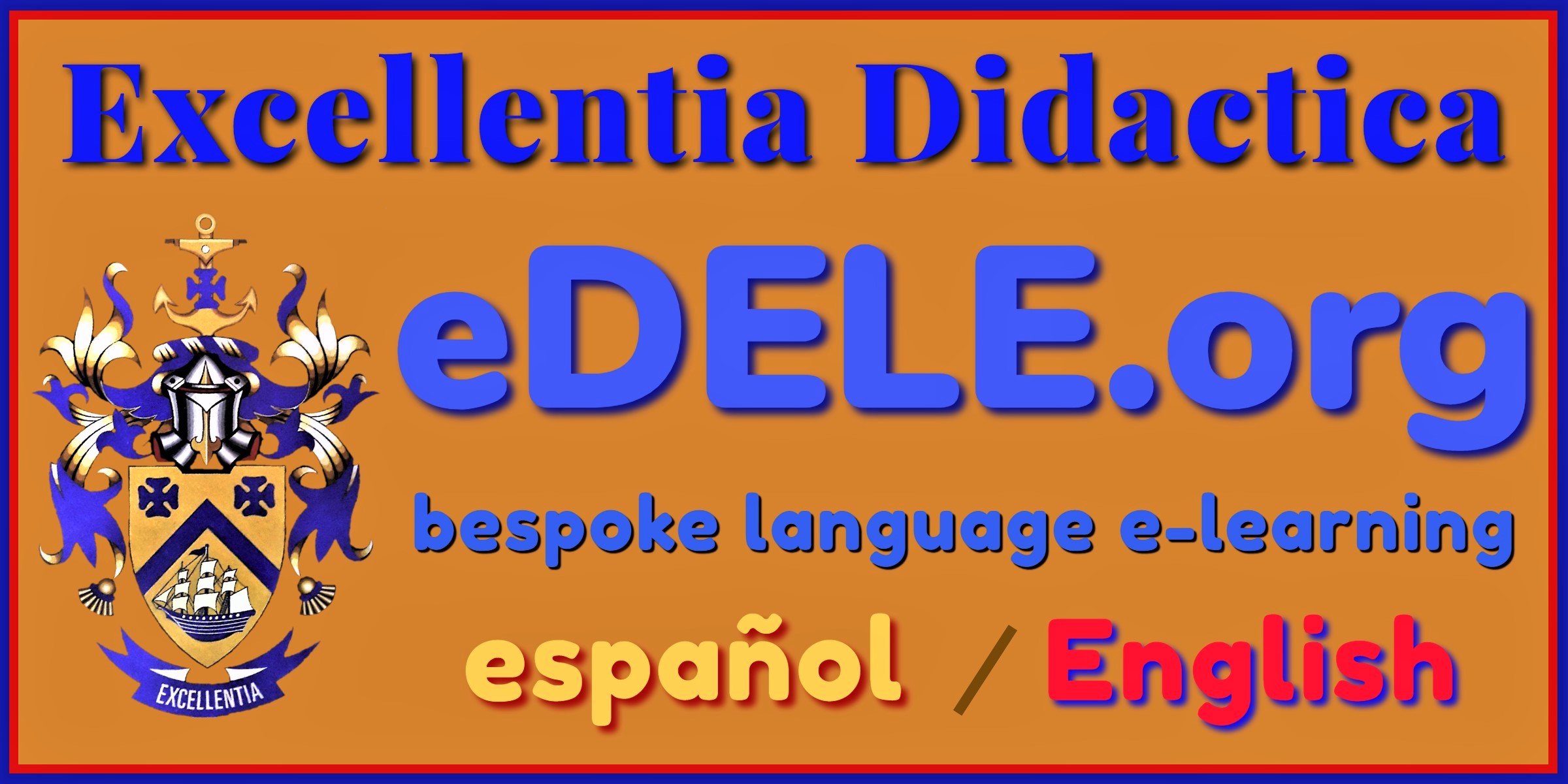 In addition to her tutoring role, Mónica also happens to be my dear wife – yes, we are a family business, not a huge corporation, so we can offer you our bespoke services, giving personal attention to you as individual and not just as a number.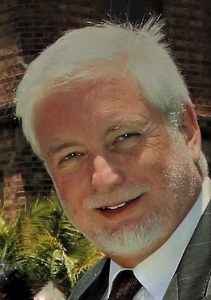 That said, I must now introduce myself. My name is Willem Steenkamp. I'm the Director of Studies of Excellentia Didactica. My past experience includes being a former head of the South African diplomatic academy (I also had the honor and privilege to have served as ambassador for President Nelson Mandela). In addition to my PhD, I'm a qualified lawyer. I speak five languages, and can read a few more. As to Spanish, I passed the DELE C2, so I know it first-hand. I'm also up-to-date with IT, having won Panama's Plan de Salto (which rewarded me with a sponsored study tour of Silicon Valley and its big-name campuses). More recently, I've also obtained certificates from Cambridge's Assessment English division in the science of teaching online, as well as from the University of Southampton / British Council on "Understanding Language Learning and Teaching".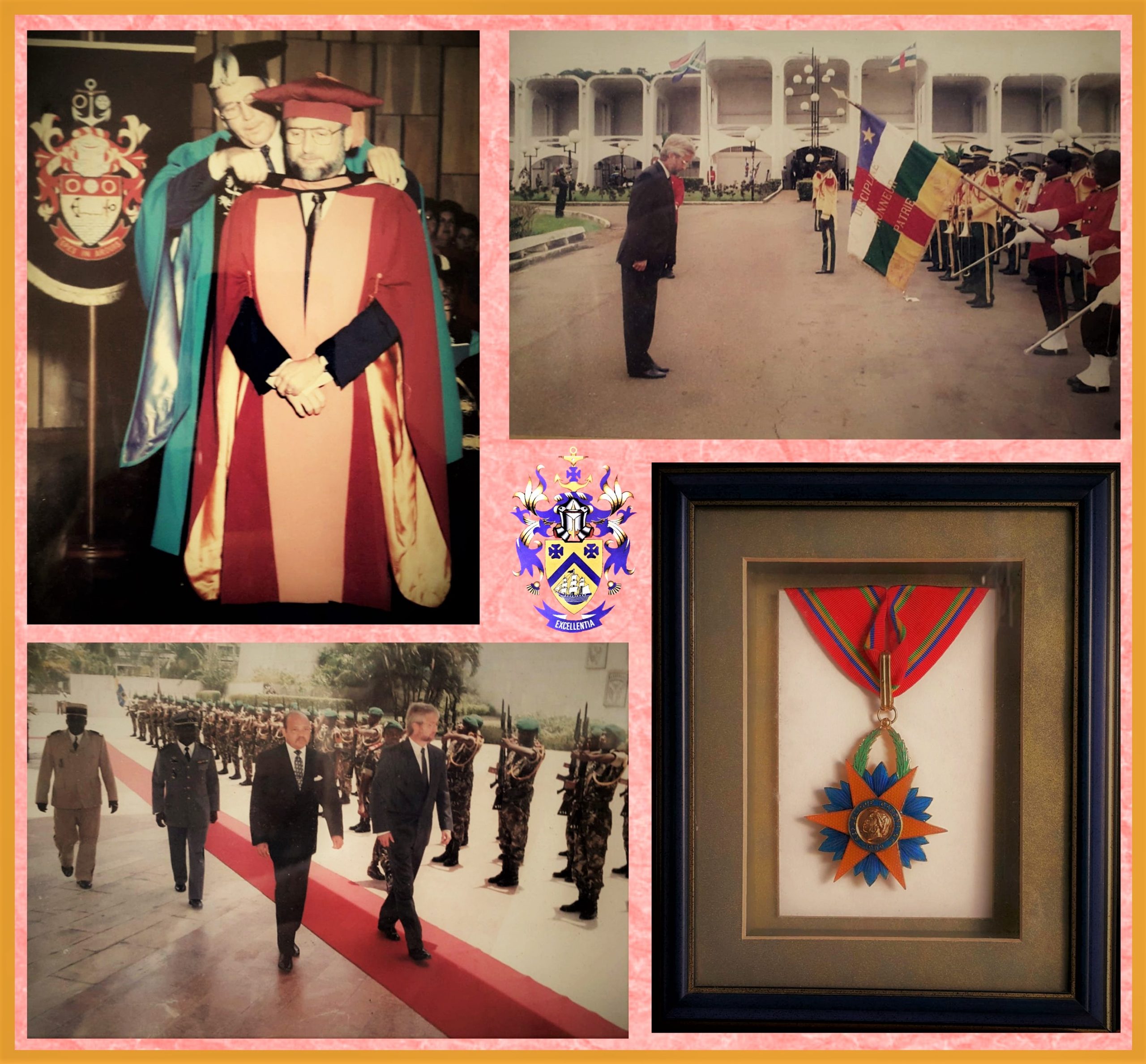 I'm telling you this not to brag, but to show that I've "been there and have done it" – I've experienced first-hand all of the challenges that you are now confronted with, and therefore can understand your needs all the better. It also shows that we at DELEhelp have the academic expertise and the practical experience to develop the study material, methods and individualized study plans that our students need. I've published a few novels, as a hobby, because I like writing. The in-house Workbooks we provide our students with, free, come from my pen. They have been written specifically for English-speaking students who are preparing for these very different kind of exams.
You can read more about us and our terms of service on our eDELE website, which also explains the different course packages we offer as part of our flexible, personalized 1-on-1 online language coaching. Click on the image below, and our website will open up in a new window: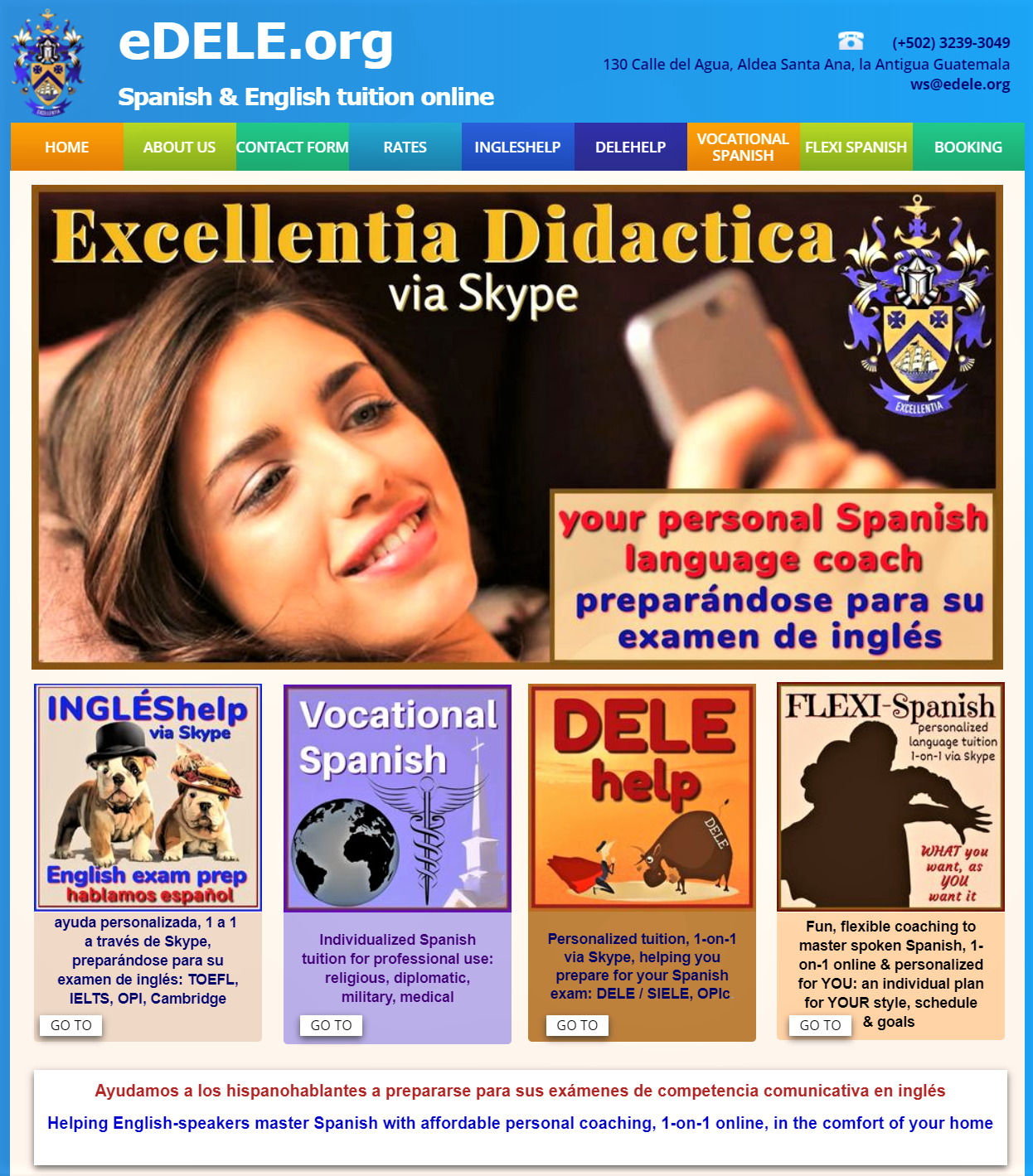 In addition to the DELEhelp course that's specialized in Spanish exam preparation, we have others such as FLEXI-Spanish (relaxed conversational classes), Vocational Spanish (especially for medical professionals, diplomats, and those serving in religious capacities), plus INGLÉShelp (the Spanish equivalent of DELEhelp, where I help Spanish-speakers preparing for their English exams like the IELTS, TOEFL, OPIc and Cambridge).
.
OUR VALUE PROPOSITION TO YOU:
The unique skills, experience and knowledge that we can offer candidates preparing for the DELE / SIELE / OPI, are:
individualized, one-on-one coaching via Skype, with a customized study plan developed for you as unique individual, based on your personal strengths and weaknesses (as identified with a FREE comprehensive initial diagnostic of all four skills).
Free in-house study material, in English, i.a. explaining the DELE / SIELE curriculum, format, desired outcomes and objectives, as well as the exam scoring criteria (in other words, those vitally important things that are so hard to find info on, in English, on the internet).
Assistance and tutoring provided in Spanish and in English, as needed, both at native-speaker level.
Spanish tutors from an environment where the language is spoken slowly, clearly and correctly, who are all trained and experienced in exam-coaching Spanish 1-on-1, online.
A philosophy that views the exam preparation challenges primarily from the student's perspective.
Familiarity with IT and its real-world applications, optimizing benefits and resources for home-based students studying online.
Battle-tested methods that grew from own, first-hand practical experience of these exams (both as exam center coordinator / proctor and as successful DELE C2 candidate), coupled with our top-level academic expertise.
A practical rather than theoretical coaching approach, with concrete exam acing tips, aimed first and foremost at positive exam results.
Affordability, because of being based in low-cost Guatemala.
Ease and security of payment, via PayPal (no bank transfer fees, no sales taxes – no hidden extra costs).
OUR RESIDENTIAL PARTNER SCHOOL & SIELE / OPI EXAM CENTER:
Our residential arm for immersion tuition here in La Antigua is the award-winning Spanish Academy PROBIGUA (just as eDELE is their online tuition arm, they're our residential arm). I am actually the director of studies for both. PROBIGUA is a non-profit, which has received the Bill & Melinda Gates Foundation Award and was recognized by pope Francis for its charitable work bringing education opportunities to Guatemala's rural poor. It is also the accredited SIELE exam center of La Antigua, of which I am the official coordinator, as well as being official proctor for the American OPI / OPIc package of language tests. To get an idea of the immersion experiences we can offer, click on the image below to go to the PROBIGUA website:
OUR TOWN:
Our home town of La Antigua Guatemala is relevant to the uniqueness of what we can offer our students, for a number of reasons.
La Antigua is firstly steeped in history, with exceptional natural and cultural beauty that has made it a UNESCO World Heritage Site and the most visited destination in Central America. Its beauty can be appreciated from these photos: http://tinyurl.com/zezlx9j or by watching this 6-minute video produced by the New York Times: https://www.youtube.com/watch?v=nhGSGXFAiMY&t=53s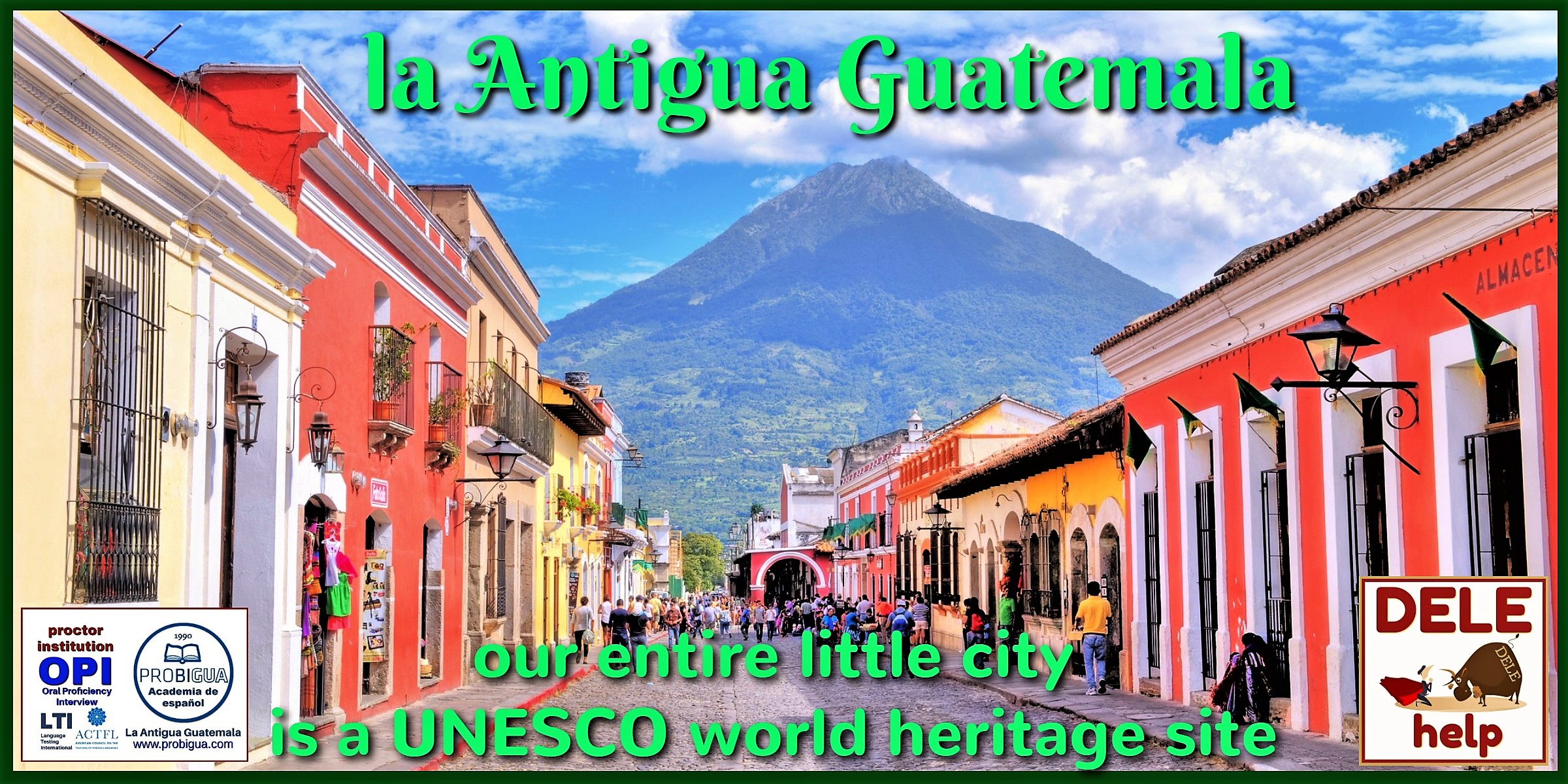 For centuries La Antigua was the capital of all of what was then Spain's Central American empire as located between Panama City and Mexico City. Situated in the highlands at some 1,500 meters above sea level, the city attracted administrators, clergy and academics from the ambit of the royal court in Madrid. These learned men implanted a very correct and classical form of speech, with proper articulation and without local regional accents, which has endured among the population to this day. In short, they naturally speak slowly, clearly and correctly – exactly what students pray for in their tutors. No wonder that La Antigua is recognized as one of the principal places in the world for studying Spanish as foreign language (which means that we have lots of experienced tutors that we can draw upon).
A quick aside – you may have heard of the phenomenon of "lowland" and "highland" Spanish: the two quite distinct versions of Spanish that is commonly encountered in Latin America. This distinction has got nothing really to do with altitude, which as such obviously has no influence on people's speech. What happened is that the Spanish imperial bureaucrats tended to establish their capital cities in the highlands to avoid the heat and tropical diseases. Commerce, though, was mostly based at the port cities along the coast. The bureaucrats and clergy were mostly from the Madrid elite, speaking pure Castilian. The folks in the lowlands, though, were largely from the southern Spanish province of Andalusia (particularly from around the port city of Seville) and from the Spanish Atlantic islands, who transmitted their distinct dialect and accent to where they settled in the Americas.
In addition to the benefit of an ample supply of well qualified, experienced tutors who speak slowly, clearly and correctly, La Antigua also offers an excellent infrastructure for language learning, with large modern DELE & SIELE plus OPI/OPIc exam centers and good internet connections for Skype classes.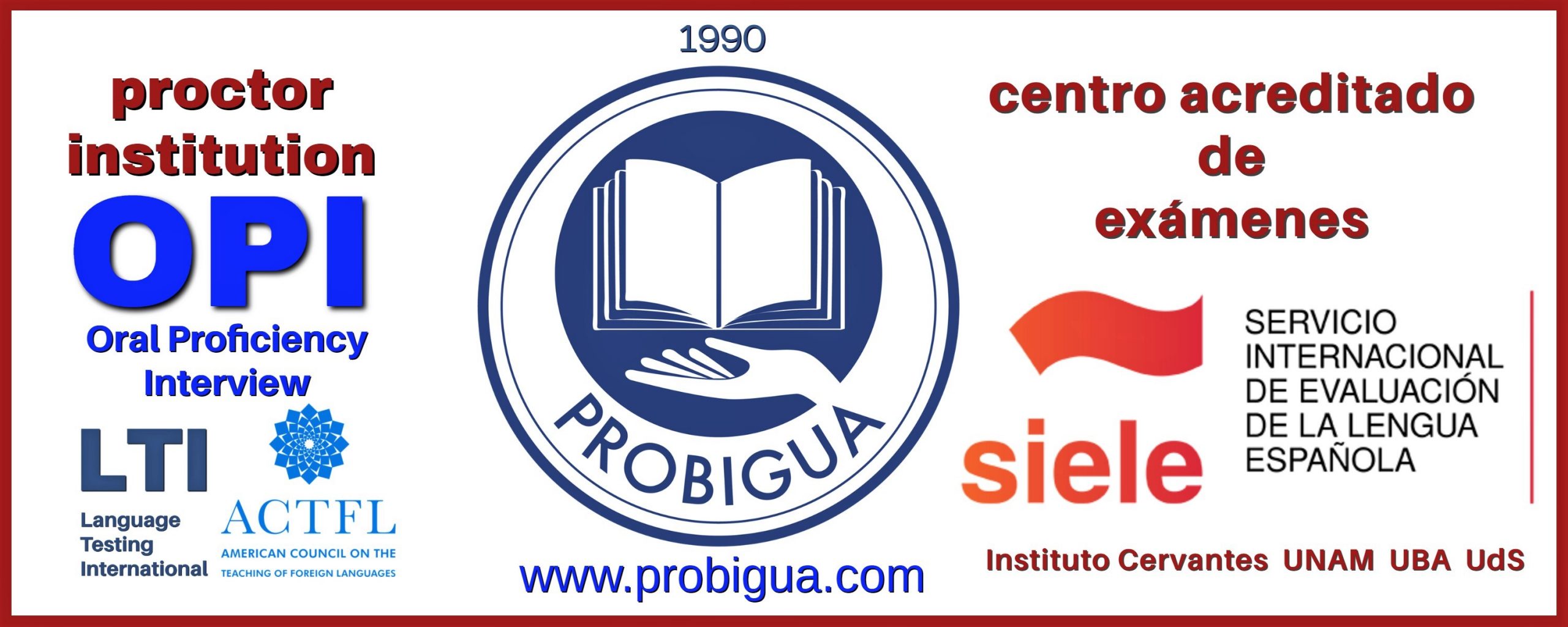 The third major benefit that La Antigua Guatemala offers, is financial. Guatemala's cost of living is very low (compared to the USA and Europe) which means that we can offer one-on-one, personalized exam coaching at only US$14 per hour. This includes our free in-house study material, as well as our time preparing classes and reviewing homework or model exams. Payment is quick, secure and easy, with PayPal.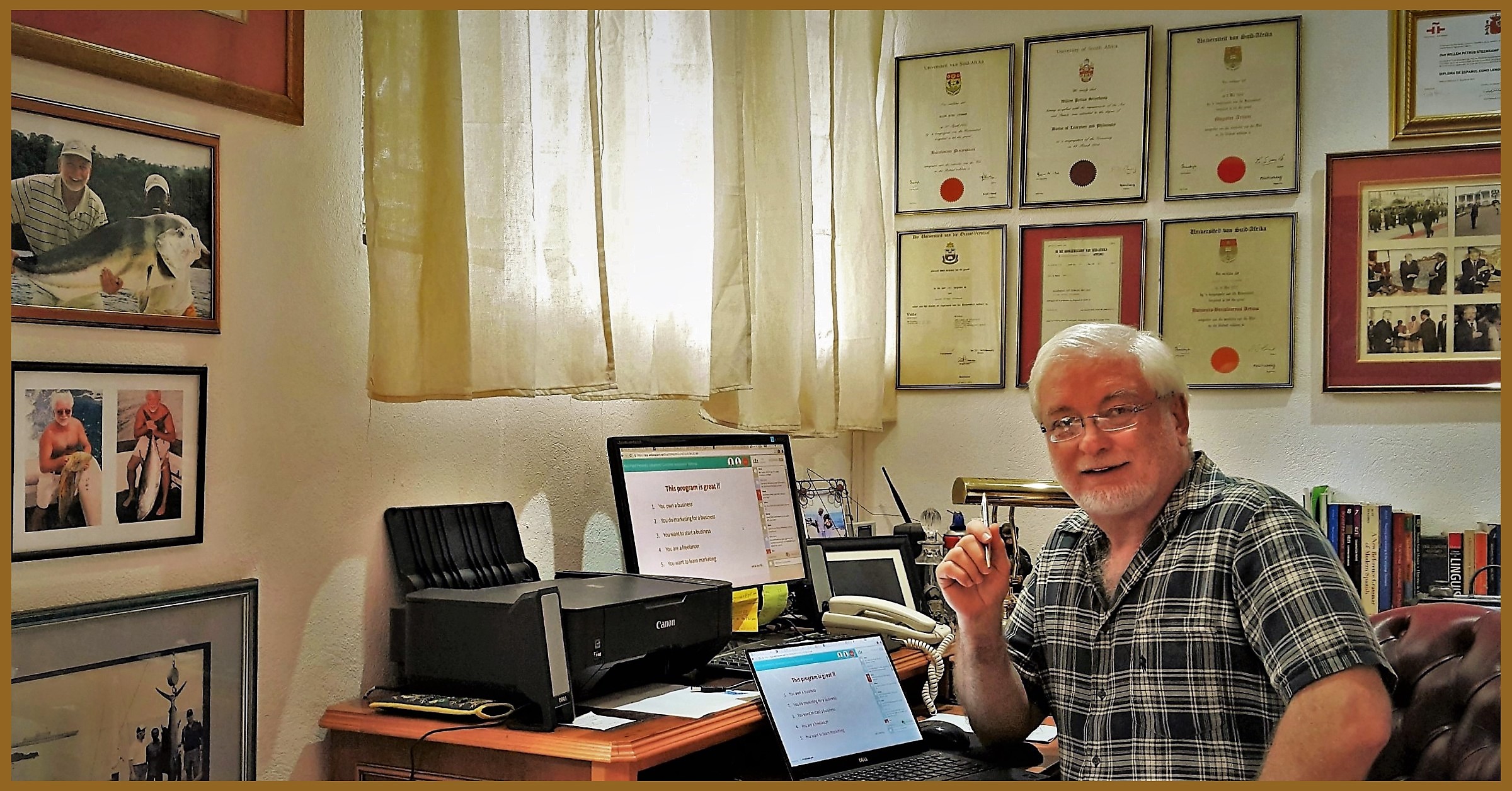 I hope this quick introduction has given you a more concrete and personal idea of who we are, where we're from, and what we can contribute to your DELE / SIELE & OPI exam preparation. To allow you to get to know us even better, we offer a FREE one hour exploratory Skype session, with absolutely no obligation. All you need to do is use our quick & convenient CONTACT FORM to drop me a line, so that we can set up a date and time.
To get an idea of our in-house study material, use the same contact form and we'll send you for free (and again without any obligation), a link for downloading our 96-page Workbook 9.2: DELE /SIELE exam orientation and acing tips. This unique DELE / SIELE exam preparation book explains the curriculum, the system's objectives and the exam scoring criteria, with battle-tested tips for acing the reading and audio comprehension as well as how to put your best foot forward in the written and oral expression tasks. (If you are preparing for the OPI / OPIc, then please ask for our Workbook #8 "Prepping for the OPI" which is also FREE).
Buena suerte with your exam preparation – I hope your efforts will be crowned with success.
Willem